2012 június 10, vasárnap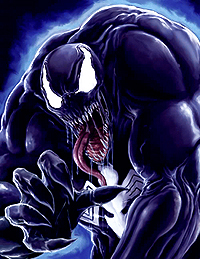 Június 8-án Matt Patches, a Hollywood.comtól volt olyan szerencsés, hogy készíthetett interjút a The Amazing Spider-Man (A csodálatos Pókember) producereivel, Avi Araddal és Matthew Tolmach-hel, s eközben feltette a Venom című filmmel kapcsolatos kérdését is. Elvileg, de ez még csak pletyka színtű, Josh Trank rendezné, a Chronicle (Az erő krónikája) rendezője.

Felbuzdulva a The Avengers (Bosszúállók) világszintű sikerén, teljesen jó ötlet lenne a Marveltől, bemutatni Venom egyedülálló történetét, ahogyan azt most teszik a rebootban Pókemberrel és a Gyíkkal. Arad pedig bővebben ezt nyilatkozta a Venom című projektről:

"Ez a történet Eddie Brockról szól. Próbálunk olyan közel maradni a képregény eredeti történetéhez, amennyire csak tudunk. Különösképpen Eddie Brock esetében. A tudomány, technika folyamatosan fejlődik, ezáltal életre tudnánk kelteni még komolyabb, még hihetőbb pókhálókat. Szóval igen, szeretnénk készíteni egy remek, lélegzetelállító filmet Venomról."

"Újságíró volt, rossz helyen volt rossz időben, így bajba került, aztán pedig kirúgták." - folytatta Tolmach, kifejtve, milyen Venom karaktert szeretnének létrehozni. "Minden Marvel karakternek közel kell maradnia a saját Bibliájához, az érzelmi világát nem hanyagolhatjuk el."