2012 június 1, péntek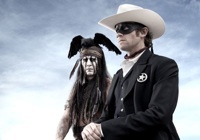 A Walt Disney Pictures beiktatott egy kis változást kettő, 2013-ban debütáló filmjének premierdátumával kapcsolatban. A The Lone Ranger, Johnny Depp főszereplésével 2012. május 31.-e helyett július 3-án fog érkezni, míg a Thor 2 egy héttel hamarabb, a november 15-i premier helyett 2013. november 8-án. Így az utóbbi film hamarabb fog nyitni, mint a The Hunger Games: Catching Fire (egyébként is; premier: 2013. november 22.) című alkotás .

A Thor 2-nek pedig így "fel kell vennie a versenyt" a One Direction című együttes koncertfilmjével, bár nem hiszem, hogy itt egyáltalán versenyről lenne szó. Magyarul rekordokat fog dönteni a Thor 2 a bevételeivel.