2012 június 8, péntek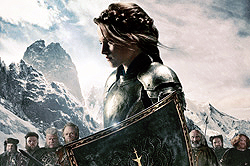 Még áprilisban bejelentette a Universal Pictures, felbuzdulva, milyen jóra is sikeredett a Snow White and the Huntsman, hogy David Koepp kezdje el körmölni a Snow White and the Huntsman (Hófehér és a vadász) folytatását, mielőtt Rupert Sanders rendezésében mozikba kerülne az első rész.

Nem tettek rossz lóra, ugyanis a film 56 millió dollárt hozott a nyitóhétvégén, így máris belevágtak Sandersék a folytatás létrehozatalába.

Korábban pedig olyat is olvashattunk, a filmmel kapcsolatban, hogy a folytatás Chris Hemsworth karakterére, a Huntsmanre (Vadászra) fókuszálna.