2012 július 17, kedd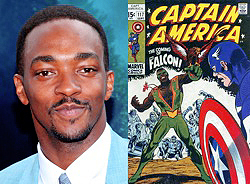 Még csak néhány napja, hogy kiderült az Amerika Kapitány 2. részének címe, vagyis a Captain America: The Winter Soldier, máris talán az egyik fő karaktert megszemélyesítő színészt megtalálták. A The Hollywood Reporter értesülései szerint ugyanis Anthony Mackie (Man on a Ledge; Abraham Lincoln: Vampire Hunter) éppen arról tárgyal, hogy a 2014. április 4-én mozikba kerülő film egyik szereplőjét, a Falcont alakítsa.

A karaktert 1969-ben kreálta Stan Lee és Gene Colan, Sam Wilson pedig a Captain America #117-ben bukkant fel először és ő volt a Marvel történelmének első afroamerikai szuperhőse, s többször is felbukkant a Captain America-képregényekben, főleg a '70-es években. Wilson a madarakkal ápolt szoros kapcsolatot, s van egy sólyma is, Redwing. Miután kosztümos szuperhős lett, Amerika Kapitány oldalán harcolt a gonoszok ellen.

Még nem biztos, de valószínűleg Ed Brubake Winter Soldier történetmenete alapján készítik el a filmet, melyben fény derül a Sebastian Stan által megformált James "Bucky" Barnes igazi sorsára. A filmet Anthony Russo és Joe Russo rendezi.